Comments for movies: Hated: Gg Allin & The Murder Junkies
Hated: Gg Allin & The Murder Junkies
Vote
(Total
0
Votes )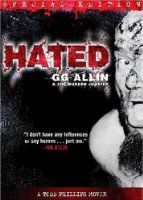 Movies:
Hated: Gg Allin & The Murder Junkies
Director:
Todd Phillips
Cast:
GG Allin, Merle Allin, Shireen Kadivar
Production Co:
Skinny Nervous Guy
Genres:
Documentary, Biography, Music
Runtime:
90 min
Country:
USA
Release Date:
1993
Documentary about the life and death of the notorious underground punk icon GG Allin, the foul mouthed, heroin shooting lead singer of the Murder Junkies, who would throw excrement at the crowd, start fights with the biggest guys in the audience, and threatened to kill himself onstage. He was considered the lowest common denominator of our society by some, an avant-garde artist by others. He died of an overdose in the early 90's...